As well as our consultancy work, Inkling have extensive academic and research experience and have contributed to a wide range of publications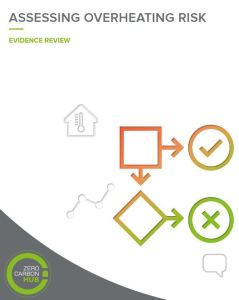 Inkling co-authored a Zero Carbon Hub publication 'Assessing Overheating Risk – Evidence Review', which was launched at EcoBuild 2015.
This document forms part of a wider evidence gathering exercise being conducted by the Zero Carbon Hub for the 'Tackling Overheating in Homes' project and provides a summary of relevant evidence and concepts on the theme of assessing overheating risk. This research relationship focusing on overheating in dwellings with the Hub is ongoing.
Inkling are members of the steering group on overheating in dwellings guidance along with Arup, ZCH and CIBSE. This group is currently working on producing a set of recommendations for a domestic overheating prediction methodology including guidance on internal gain profiles and thresholds.
Susie and Claire are on the Scientific Committee for the CIBSE Technical Symposium, acting as expert peer reviewers.
Inkling presented research at the CIBSE ASHRAE Technical symposium 2014 in Dublin on 'A comparison of the CIBSE Guide A and TM52 overheating criteria for a range of building types'   The aim of the research was to investigate how the same building performs with different compliance criteria.
Susie and Claire have both contributed to a number of publications – see the news section of the website for more details.
Read more about our Consultancy Services.